Our class for 2021 – 22 is currently full, however we do maintain a wait list, as it is not uncommon for families to move or change their plans. To hold your spot on our wait list, you must submit your registration forms, but you are not required to pay a registration fee. Your fee is only required if we offer you a spot.
1) Complete your registration forms at home. You can download them here, or contact us and we will arrange for a blank copy to be sent to you.
2) Send us an email requesting registration. 
Attach your completed registration forms to your email, or drop them off at the Dalhousie Community Centre mailbox located at the front doors. (address 5432 Dalhart Rd NW) Please mark them for Kindergarten.
We will reply with acknowledgement of your email. If a spot becomes available, we will make arrangements to collect copies of identification documents and fees.
We look forward to the time when we will be able to welcome you into our classroom and meet you safely in person! New parents for the 2021 – 22 school year are scheduled to attend an orientation evening on Monday May 3rd and students are invited to visit the classroom on the morning of Friday May 28.
Please contact us with any questions using the Contact Us form
Dalhousie Community Kindergarten is open to children from any community in Calgary, not just Dalhousie. Registration for Kindergarten students takes place in January of each year. Kindergarten-aged children attending the Dalhousie Community Pre-school can register one week prior to our open registration date. All registrations are taken strictly on a first come, first served basis.  If there is any space available, Junior Kindergarten registrations (those students who are four years old by September) are accepted at the start of February.  It should also be noted the registrations of special needs students (those receiving Program Unit Funding (PUF)) are handled a little differently, with registrations being accepted at the start of December. Two spots for PUF funded students will be held open until our Open Registration date in January.
To register, please bring your child's birth certificate or passport and Alberta Health Care Card. It is recommended that your child have the Measles/Mumps/Rubella immunization prior to entry into Kindergarten.  Also bring cheques for the three amounts noted below.
Please contact us directly if you have questions about this process and see more information below. Call: (403)288-1050 or email us at dcakids@telus"dot"net
Key Dates for registration for the 2021 – 2022 Year (Next School Year):
Children are considered kindergarten-aged for September 2021 enrolment if they turn 5 years old on or before Dec. 31, 2021.
Junior kindergarten students must be 4 years old by September 1.
New Parent orientation will be held on the evening of Monday May  3rd, 2021.
New Student orientation will take place during the morning of Friday May 28, 2021.
Each year:
Registrations for kindergarten-aged PUF students (2 spots) will be accepted starting the first Tuesday in December.
Our Open House is typicaly held the second week of Janaury.
Priority registration for kindergarten-aged children currently attending the Dalhousie Community Preschool are typically accepted the third week of January.
Open Kindergarten registration begins the last week of January.
Junior kindergarten registrations (if spaces are available) will be accepted the first week of February.
Registration Forms:
Save time and complete your forms at home!
Copies of these forms can also be obtained by request from our office if you are unable to print them at home.
Out of School Care:
The Dalhousie Community Association operates an on-site Out of School Care Program for children aged 4.5 and up. Please contact them directly for information. Please note that for the 2021 – 22 school year they currently plan to start accepting registrations of new families in May 2021.
KINDERGARTEN:

To qualify for Kindergarten funding from Alberta Education, Alberta children must be five years old by Dec 31 for the school year starting in September. They must also be considered residents of Alberta.
JUNIOR KINDERGARTEN:

To qualify for Junior Kindergarten, children must be 4 by September of the current school year.
Tuition for Junior Kindergarten students is $380 per month for the 2021/22 school year. Rates are reviewed prior to registration each year.
Junior Kindergarten students will join our Kindergarten students in our morning class as space permits.
Registration is taken on a first come, first served basis. Final acceptance may be subject to be an assessment conducted by the Kindergarten Teacher to ensure program fit, and could include a visit to the child's current program.
Fees:
A $50 non-refundable registration fee will be collected at the time of registration.
A $120 Program Enhancement Fee will be collected, post-dated to May 30th. Like other publicly funded kindergarten programs, Dalhousie Community Kindergarten collects a one-time program enhancement fee. This fee of $120 for students is typically collected at the time of registration.  It is refundable with written notification of withdrawal prior to June 30. The fee covers classroom supplies, special materials, field trips, or guest speakers that provide program enrichment and are beyond the curriculum mandated by Alberta Education. Other fees may be collected during the year to cover additional enrichment activities or lessons (i.e. skating lessons, swimming, etc).
A $100 Volunteer Deposit fee is collected from all families at the time of registration and dated for September 1. The fee is returned upon completion of specific volunteer duties.
Special Needs/Program Unit Funded (PUF) Students:
Dalhousie Community Kindergarten values diversity in our classroom and we have a long history of welcoming students with a wide range of backgrounds and abilities. Within that context, our governing body, the Dalhousie Community Kindergarten Society, has allocated two Kindergarten registrations specifically for students that receive Program Unit Funding (PUF) / are special needs students.
To enable a smoother registration process for these two special needs spots, registration for those spots is accepted before general Kindergarten registration which is typically at the end of January. Special needs registrations will be accepted on a first come, first served basis starting the first Tuesday of each December at 9:00 a.m. and will be held open until general kindergarten registration in January.  The first two registrations will be assessed by the Kindergarten Teacher to ensure program fit and could include a visit to the child's current program.  Parents will be advised of their child's full acceptance into the program in a timely manner.  All other subsequent registrations will be wait-listed in priority order to be considered if a special needs spot should become available.
Looking for a Preschool Program?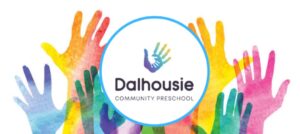 The Dalhousie Community Preschool is located next door to our classroom and offers an amazing program, 2 or 3 days per week for children 3 or 4 years old.
Visit their website here: https://dcpreschoolca.wordpress.com/